The Products
For personal use there are eight different Vita Fons II products encoded with numinous energy. All are designed to improve the interface with the incorruptible Divine Core, which encourages the recipient's body, soul, spirit, brain, emotions and mind to work as a single unit, enriching, protecting and transforming itself. (All the Products can be used by vegans with the exception of the Salve which can be used by vegetarians.)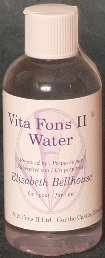 Water is primarily used to upgrade food and drink. Simply apply 5 drops, or 5 depressions of the pump, at a time. It is also used by therapists in conjunction with hydrotherapy and ocular, vaginal and colonic irrigation.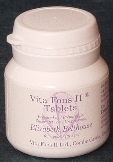 Tablets are for those who prefer tablets to liquid. They consist of calcium phosphate, microcrystalline cellulose, potato starch and magnesium stearate encoded with numinous energy. Each Vita Fons II Tablet equals 5 drops of Vita Fons II Water. They may be chewed, sucked or swallowed.

Ointment is the most generally useful of the preparations for upgrading the output of the external chakras. And, with the exception of Vita Fons II Talcum Powder, it is the most potent. It consists of water, hamamelis water, almond oil and emulsifying wax encoded with numinous energy. It will not stain clothes. If malfunctioning tertiary charkas have produced dry skin use Vita Fons II Lotion or Salve in preference.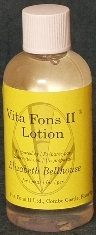 Lotion

is formulated to suit the delicate chakras located in the face, neck and hands. It contains water, vegetable glycerine and lemon juice encoded with numinous energy. Mixed with equal parts of water, Vita Fons II Lotion may be used as a gargle.








Massage Oil is formulated for massage and may be used in conjunction with acupuncture, chiropody, manipulation, massage, osteopathy, reflexology, zone therapy, etc. Vita Fons II Massage Oil suits the output of chakras which form dark skin. It consists of blended vegetable oils encoded with numinous energy.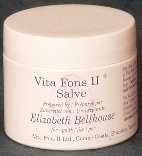 Salve is specially formulated from caster oil, arachis oil, beeswax, zinc oxide and cetostearyl alcohol encoded with numinous energy. Use for application to areas where chakras have produced very dry skin or nails and in animals: hooves and horns. Its high melting point makes Vita Fons II Salve the best formulation for application to chakras which form the buttocks and eyelids. N.B. It may stain clothes.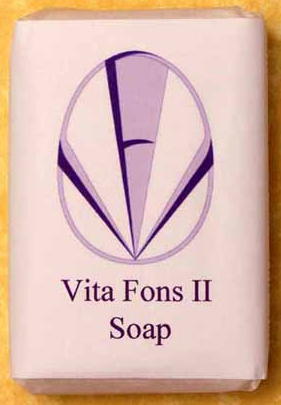 Soap is formulated to dissolve surface oil and grime, without leaching the skin's natural oils. Its glycerine content will act a moisturiser. As the majority of the body's chakras are located just above its surface, skin in good condition will assist the absorption of Vita Fons II. Our Soap is non–perfumed and hand made from coconut oil, water, palm oil and glycerine. For best results: use night and morning and each time you wash your hands.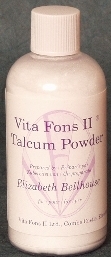 Talcum Powder is the most potent Vita Fons II product for external use. It can be used to upgrade all types of chakra (except in the eyes & ears). Dust on top of any other Vita Fons II product to obtain increased effect.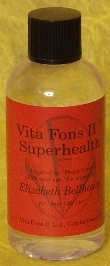 For Animals: use the same products and application systems as for people. But, since all members of the animal kingdom are spiritually less complicated than mankind, all mammals, regardless of body size, need only three drops in food or drink. Use two drops for birds; one drop for fish, insects and reptiles (which are (spiritually) simpler still).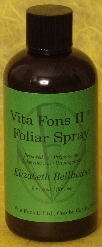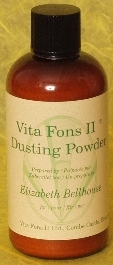 For Plants:
Vita Fons II Foliar Spray (or Dusting Powder) may be used on leaves, branches and trunks with a view to increasing crop–weight, and disease–/ parasite–resistance, to help transplanted plants and revive wilted plants. Used on dysfunctioning or injured twigs and branches Vita Fons Foliar Spray (or Ointment) has an 'electric' effect. A Seed Dressing and a Rooting Powder are also available.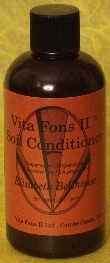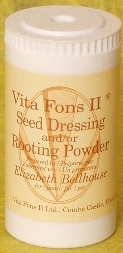 For soils,
compost heaps, etc.
to assist the transposition of life–energy from the soil's aerobic flora and fauna to the plant. Vita Fons II Soil Conditioner should be used (1) when building compost and manure heaps, (2) whenever the soil is disturbed by digging, rotovating or ploughing and (3) to assist adjustment, every time it is watered.

None of these products were developed
out of animal experimentation.
And none have been tested on animals.
* * * * *
'Back-up'. We can broadcast Vita Fons II twenty four hours a day to back up the use of the products for individual people and animals via three photographs (face, and full length front and back). (Recommended). To view additional information about our Back up Service click here.&nbsp We also broadcast Vita Fons II twenty four hours a day to buildings, plants and soils.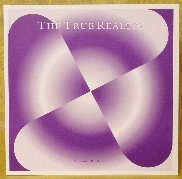 'The True Reality', a book by Elizabeth Bellhouse goes into the subtle aspects of Vita Fons II, its method of working and what its effects tell us about the world we live in. 'Vita Fons II - A General Introduction',
an audio tape by Elizabeth Bellhouse.
© Vita Fons II Limited, 1998, 2000
---
Please view the pages below. For further details and/or the name and address of your local outlet, send us an

e-mail with your full name and address

or write to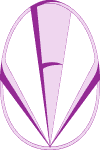 Vita Fons II Limited,
Combe Castle, Elworthy,
Taunton, Somerset,
England TA4 3PX.
| | |
| --- | --- |
| Telephone: 0044 (0)1984 656245 | Fax: 0044 (0)1984 656734 |